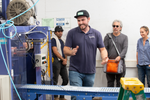 Due to Covid-19 gathering restrictions, we have temporarily paused our farm tour operations. However, we do look forward to carrying on our tradition for many years into the future, once public safety mandates are lifted. In years past, we have hosted these events bi-yearly -- once in March, and again in October. It is an opportunity for members of the public to visit our Moss Landing mushroom farm, and attend intimate tours of our growing operations, led by the owners and founders of Far West Fungi.
Our tours have become so popular, they have nearly sprung into unofficial mini mushroom festivals. Fungi enthusiasts from all over the Bay Area flock to our coastal property, where we grill fresh mushrooms picked right off the farm, and share a rustic outdoor potluck with mushrooms in every dish. Guests are led in small groups through each stage of our cultivation process, and are encouraged to ask questions. After the festivities, we give attendees free reign to collect our "spent" mushroom blocks, which provide superior and highly sought garden compost, and almost always continue to produce mushrooms.
Keep checking in with us for news and updates. We hope to see you on the farm again soon!