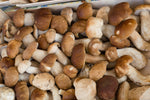 If the lion is King of the Beasts, Porcini (Boletus edulis) is most certainly King of the Mushrooms -- as evidenced by its colloquial name, "King Bolete." Rich and nutty (like many actual Kings of the past), these mushrooms occupy a high seat in nearly every European cuisine. Italians take almost as much pride in their Porcini as they do in their truffles. In France, they are famously known as "Ceps." In Russia, they are an essential part of holiday meal traditions, and a forager's greatest prize. Alongside the Morel, it may be the most revered and adored of all wild mushrooms (though of course, those are fighting words).
As you would expect, this mushroom enjoys a cultish mystique. One of our forager friends, Pete Martinez, swears that if you see a tiny immature Porcini button growing in the wild, you may as well go ahead and pick it, because the minute you lay eyes on it, it will never grow any larger. There is something about each individual Porcini that is unique and personable. Their dense bodies and potbellied shapes give them the gnome-like aspect of fairytale creatures. In the late fall, close to Thanksgiving, it is not uncommon for us to find giant "monster" Porcinis weighing in excess of 4 pounds, and standing over 2 feet tall -- almost the size of human children!
There is a lot of variance in grading the quality of Porcinis. The highest quality, a #1 Porcini, was picked when the mushroom was still very young. This does not necessarily reflect the size of the specimen, but rather the texture. Highest grade Porcinis will be as hard as rubber when pressed. They usually have tear-shaped stems and rounded caps, with tightly packed white pores in the place of gills. This grade of Porcini is one of the only mushrooms that is a delicacy when eaten raw. A simple salad of shaved porcini, good olive oil, lemon zest, and fresh herbs is a great way to appreciate the purest qualities of this mushroom.
Even the finest #1 Porcini will eventually degrade to a #2 if it is left to sit in the fridge too long. When this happens, the flesh becomes softer, with a spongy give in the stem, and a cap soft enough to leave a finger impression on. The pores will grow longer, and turn pale yellow to a deep golden or green color. Once this happens, the pores are referred to as "mousse," which dissolves into a velvety sauce when cooked. #2 Porcinis are often more flavorful than the more expensive #1 grade. The trade-off, however, is that they must be used up quickly, because they are beloved by bugs, and will inevitably become infested with little white worms as they mature. You will sometimes find Porcinis for sale already cut in half. This has often been done by the forager, to check that the interior of the mushrooms are free from "extra protein." You can tell if there has been insect activity by looking closely for pin holes in the white flesh of the mushroom, and tiny black specks, which are the heads of the bugs. They are not harmful to consume, but not everyone enjoys the thought of eating worms.
More mature Porcinis are ideal for roasting, or using in stews and braises. Extra large ones can be studded with cloves of garlic, rubbed with olive oil and herbs, and roasted whole like a centerpiece ham. We know a chef who slices jumbo stems into thin slabs, and uses them in place of noodles in baked lasagna. You will not find a wild mushroom cookbook that doesn't feature Porcini recipes -- and they will almost all be different. This mushroom is so versatile, you can substitute it in any dish where a mushroom is called for -- from pot roasts, to curries, to gravies, to savory cheesecakes. It almost doesn't seem worth listing suggestions, because there's virtually no dish that would not be improved by Porcinis. We've even seen dried Porcinis infused in bourbon and served up in a cocktail. And speaking of dried Porcinis: tactical umami bombs. If we had to pick one mushroom to be stranded with on a desert island...you guessed it. Long live the King!